PLM Solution Packages
Global E-BOM M-BOM management
While the engineering bill-of-material (EBOM) is the as-designed functional view of a product created during development, the manufacturing bill-of-material (MBOM) as one of its derivatives shows a specific product view used for global production planning (as-planned) and material sourcing puposes representing aspects like
In-process-assemblies
Make or buy sourcing decisions
Multi-location support for manufacturing planning
Product and process costing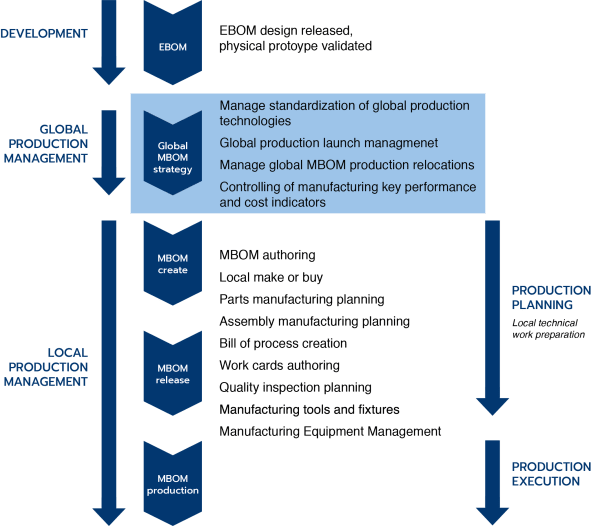 LMtec enables customers with focus on component manufacturing or assembly planning processes defining global and local MBOM concepts. Our experts will guide customers through the process of Setting up an MBOM framework containing
Global MBOM strategy
MBOM localization support production planning for multiple manufacturing facilities
MBOM change and release processes with hand-over to ERP for manufacturing execution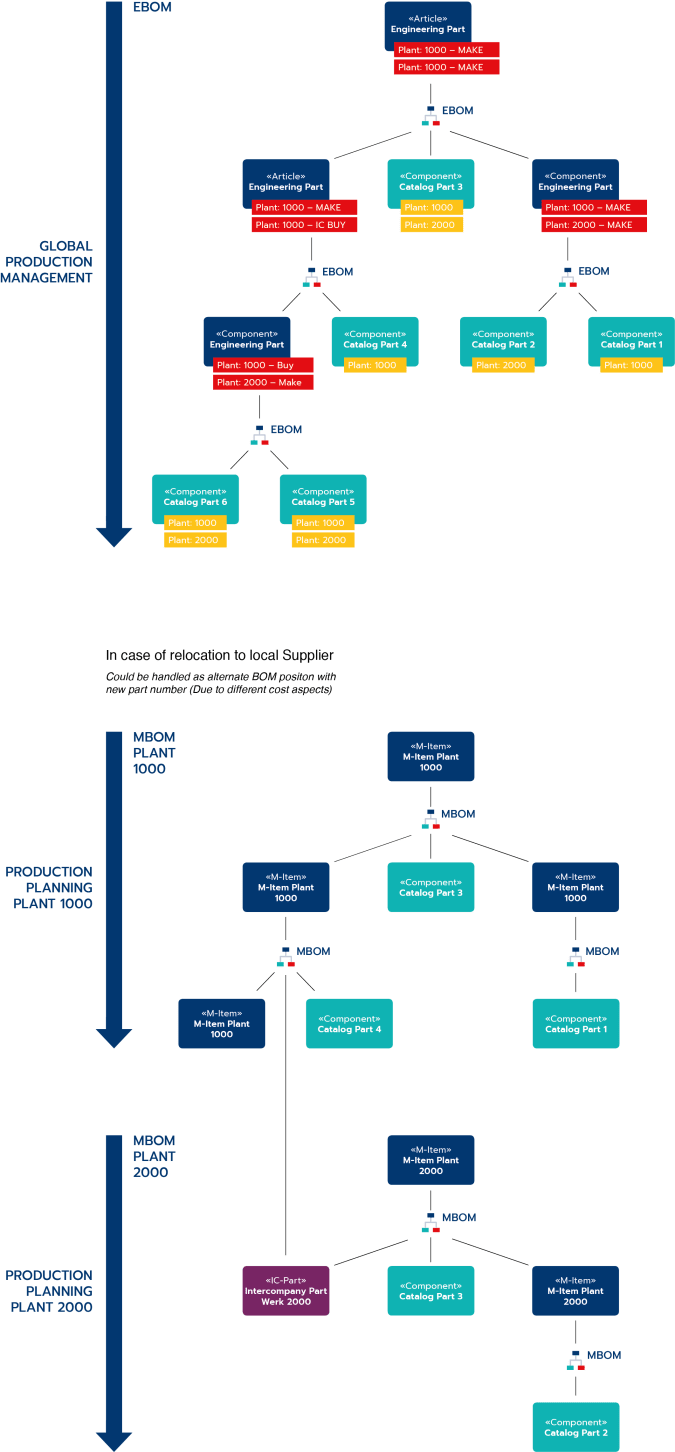 Our experts will also guide you through the implementation process using software solutions like Siemens Teamcenter enabling you to build and extend your concept based on the capabilities of Teamcenter Manufacturing Process Planner (MPP).
Automotive supplier package​
Automotive Suppliers are working in challenging context with extending complexity and have to cover a lot of different needs towards the OEMs and their own suppliers. PLM helps them to control that complexity.
LMtec provides a process and functional based Automotive Supplier Package (ASP) to help you to define your PLM strategy. Processes for Tier 1 und Tier 2 suppliers can be supported by PLM. This leads to an integrated process oriented PLM solution.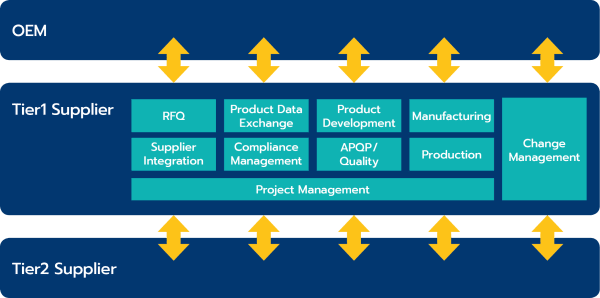 LMtec Automotive Supplier Package provides based on the processes different predefined datamodel and functional solutions that can accelerate your PLM process and user acceptance.

Engineer to order​
Engineer to Order (ETO) describes a production approach, that adds significant engineering, design and manufacturing planning effort for a customer specific product to the time frame between the customer's order and the final product delivery to the customer.

This approach is often used in civil engineering, plant engineering and the development and manufacturing of special parts. The process consists of mainly four different phases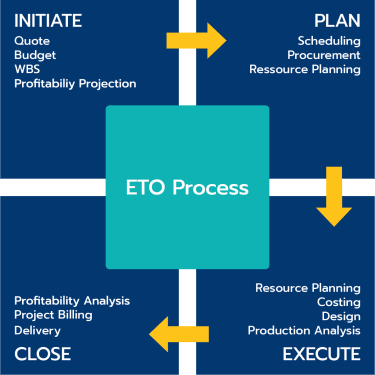 LMtec offers extensive consulting know-how in the area of ETO processes for various industries as well as tool expertise with focus on the Siemens solutions RuleStream and Teamcenter.
As part of our consulting activities we offer special process know-how when implementing ETO solutions within your organisation. Our expertise spans from design and planning phases to As-Built management and Service Engineering (As-Maintained) utilizing integrated BOM management as data backbone.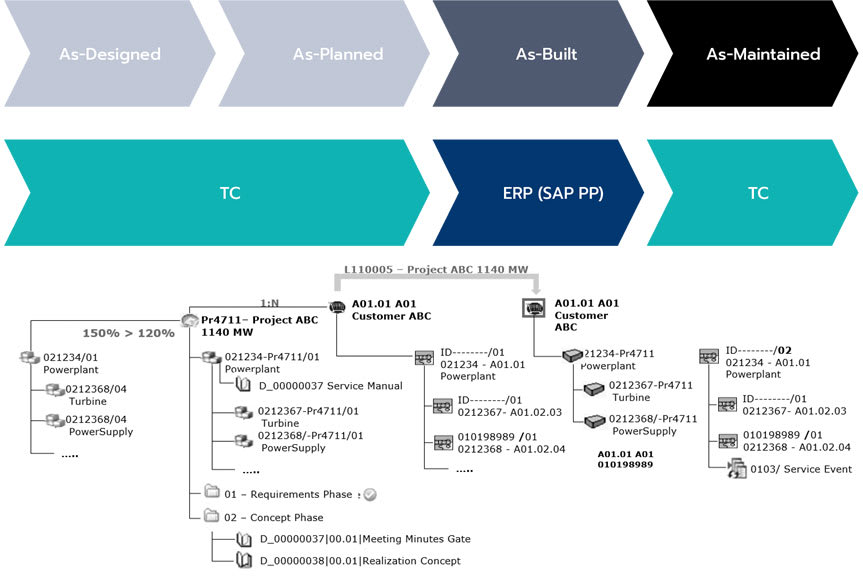 During all phases of an ETO project, various kinds of documents need to be managed. As part of of our portfolio, LMtec offers an ETO project template concept for Teamcenter supporting the management of
customer orders as well as customer projects
pre-defined folder structures for project documentation including templates for a large number of document types
pre-defined workflows for document and folder release with related access control concept
a documentation type classification according to industry standards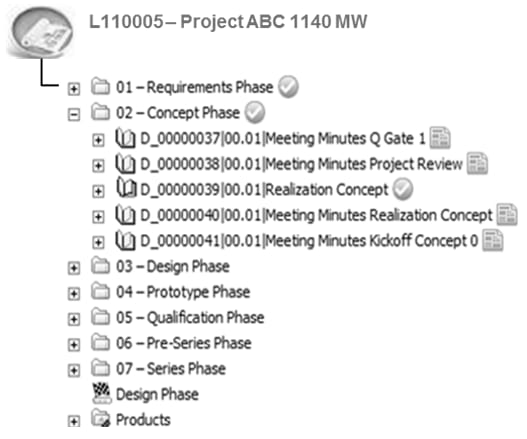 Compliance management​
Substance compliance is the process of checking if the parts used in your company products are conform with environmental regulations. Parts that fulfill these regulations are said to be environmentally compliant.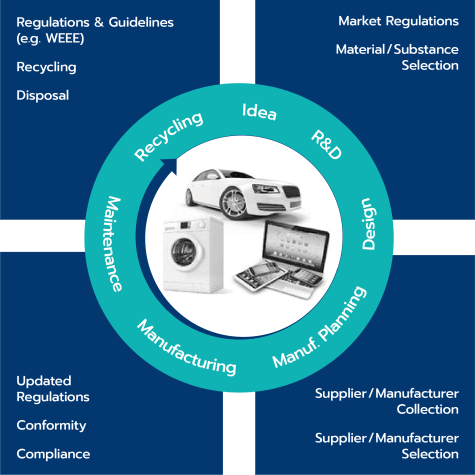 Challenges met during the substance compliance process are:
Product complexity
Globalization of products and suppliers
Large portions of products are supplied parts
Various regulations and standards which are updated with high frequency
LMtec in collaboration with its partner thinkstep offers consulting know-how in applying the Compliance Management solution integrated in Teamcenter. Our experts analyze your compliance mangement process and will help you to configure Teamcenter Compliance Management to best fit your requirements and compliance process.
Throughout different customer processes our LMprime' solution template provides predefined processes and solutions. This helps us alongh with an agile implementation approach and rapid-prototyping to achieve a fast implementation of proven solutions.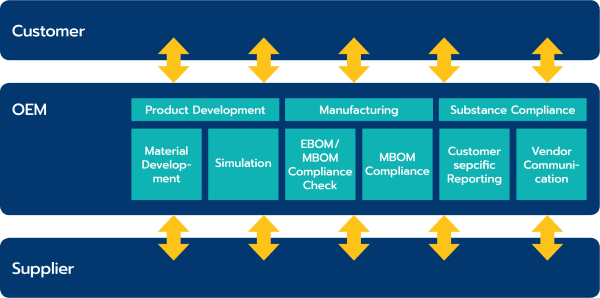 Master data governance
Data governance is a control that ensures that the data entry by an operations team member or by automated processes meets precise standards, such as a business rule, a data definition and data integrity constraints in the data model. The data governor uses data quality monitoring against production data to communicate errors in data back to operational team members, or to the technical support team, for corrective action. Data governance is used by organizations to exercise control over processes and methods used by their data stewards and data custodians in order to improve data quality.
Data governance in Teamcenter
In a Teamcenter database, the data are subject to constant change. However, some of these changes can also lead to undesirable results, such as in the release of documents and parts. Reason for these undesirable results can be:
Incomplete or improper migration of old data stock
Not take into account changes in business processes which affects existing data
Errors in previous releases
Application usage errors
Our experience and tools
Consulting in setting up data governance in Teamcenter
Development of concepts and rules
Introduction of quality requirements and training
Configuration of Teamcerter and Validation Framework
CNO VALIDATION FRAMEWORK now offers all possibilities of validation of data, eg :
Status values to previous revisions
Attributes in forms
Relations between Teamcenter objects (part to document, part to BOM, part to part, etc.)
Empty files of documents and much more
All criteria of validation are freely configurable, so they can easily be adapted to changing requirements. The validation can be done:
in the form of a report showing the target-actual deviation
in the context of workflows using handler
as a rich client application for interactive validation
Mechatronic BOM management
Mechatronic engineering is the key to shorter development times and the reduction of sources of error. Also for the development of machines in the age of industry 4.0 an integrated cooperation of the engineering disciplines is a decisive success factor. We want to move away from the classical sequential BOM management of the individual disciplines to a parallel integration of the BOMs.
Process improvements
Intergrate mechanical and electrical BOM during engineering process
Shorten time because of parallel work
Improve ordering process because of clearer assignment of components
Our experience
Consulting in setting up an integrated process
Providing know-how to automate such an integration
Specialized on Teamcenter (trademark of Siemens PLM ) and EPLAN (trademark of Friedhelm Loh Group)