LMtec
History of LMtec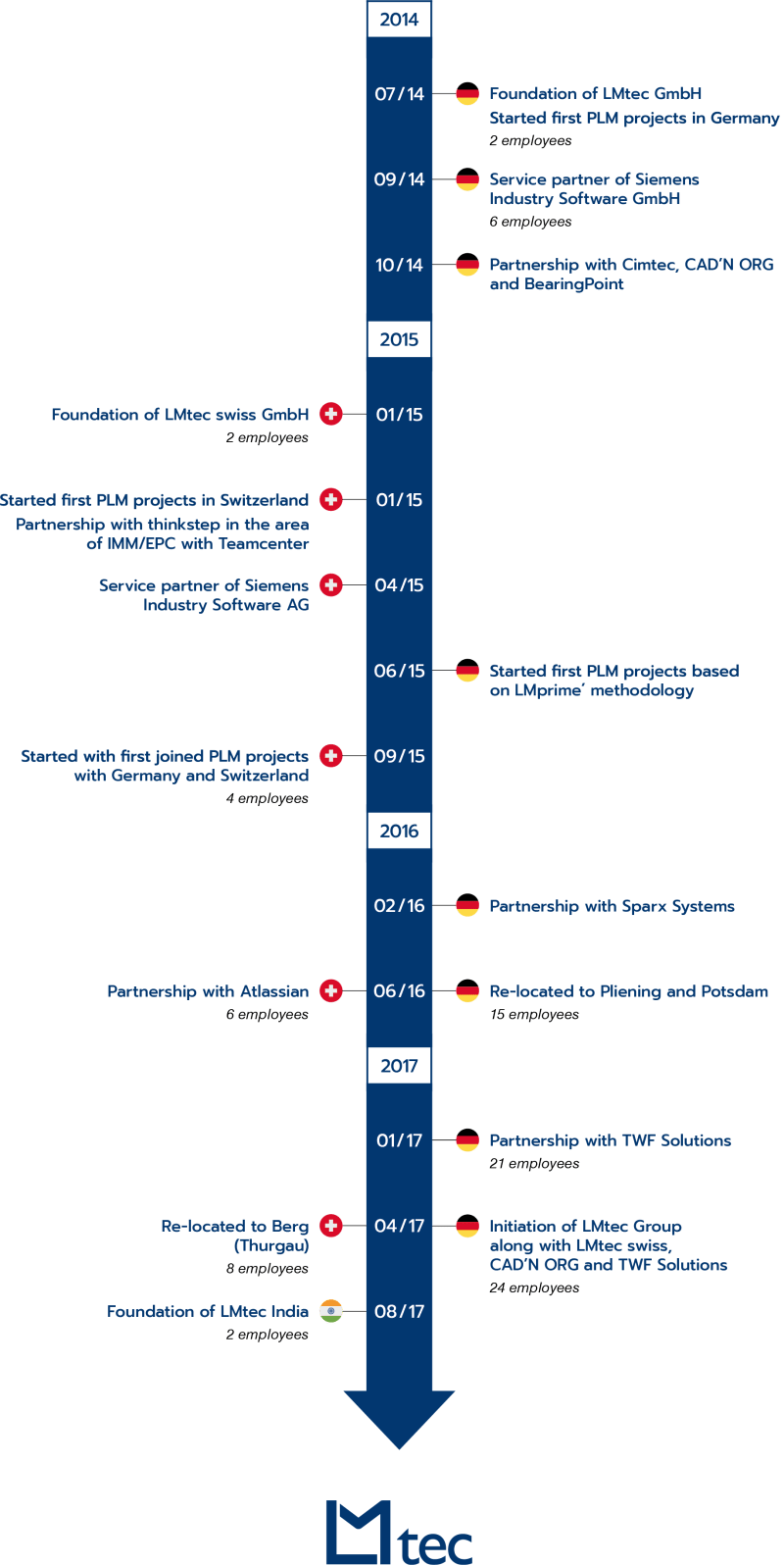 Core competences
Strategic PLM consulting
PLM System implementation services
Functional training and user coaching
PLM system operations and maintenance
Job opportunities
Lifyecycle Management is the strategy to sustainable innovation and competitiveness of companies. We advise clients of all industry sectors with the conception and implementation of lifecycle management systems and support them with the development of a strategy, planning and implementation of company specific solutions. Beyond that we use our long-lasting experience with process consultancy and also assume project management tasks.
You already have experience in lifecycle management and are ideally already experienced with sector specific standard software solutions in the areas ERP, PLM or CAD/CAM. But also as professional newcomer with a university degree in engineering, information technology or a related field of study are more than welcome and will be prepared for the impending project challenges.
You are social, able to work in a team and bring lots of interest for IT technologies. Other than German you have a good command of the English language in speech and writing. You are also interested in business processes and organization and bring along knowledge in product development and manufacture as well as maintenance. We offer you a team oriented working environment and promote you personal as well as your professional development.
To enhance our team we are looking for new employees in the area of
Process consultancy
Project management
Solution architecture and concept development
Implementation and software development
Please send your applications via Email to lmtec@lmtec.eu or mail to
LMtec GmbH
An der Leiten 40
D-85652 Pliening
Partners
Contact LMtec Germany
LMtec GmbH
An der Leiten 40
D-85652 Pliening
Tel:
+49 8121 4760382
Fax: +49 8121 8001160
Contact LMtec Switzerland
LMtec swiss GmbH
Sonnenstrasse 9a
CH-8572 Berg
Tel:
+41 71 545 07 60
Fax: +41 43 260 92 60
Contact LMtec India
LMtec India Consulting Services Pvt. Ltd.
C 70, Sector 65, Noida,
Gautam Buddha Nagar, Uttar Pradesh, India - 201301