LMprime´
Overview
The complexity of the affected business processes and their related data require effective implementation strategies when creating or transforming PLM system environments. In either case, expert teams will face chellanges emerging at any phase of an implementation project such as
Process Analysis
Capability Description
Solution Design
Test Execution
Documentation Creation
LMprime´ provides a holistic view to PLM transformation and implementation projects, covering and integrating all major phases and organisational aspects during the PLM project's lifecycle based on
A predefined solution framework
Industry process and domain specific solution packages
An Agile concept definition and delivery methodology
Proven tool sets and best practice solutions
With LMprime´, PLM projects of any industry domain can be approached using an Agile Concept Definition and Delivery Methodology. With it's associated set of tools, standardised solution concepts and reusable building blocks as well as proven PLM Role Model, customers and PLM implementors are able to analyse, define and deliver solutions with high quality in short cycles.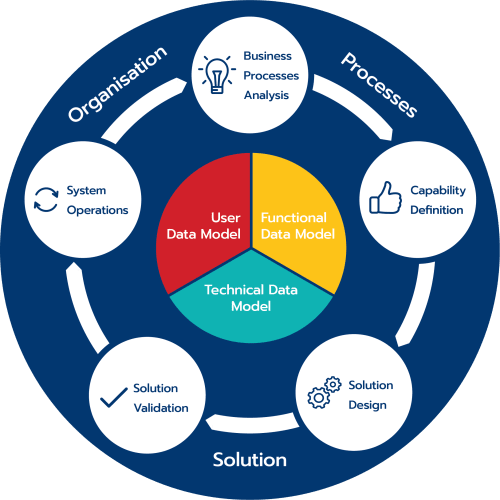 At any stage of a PLM project LMprime´ applies
Iterative Implementation capabilites
Detailed Management of Use Cases, Requirements and Solution Features
Visual Modeling for all required artefacts
Data Model Definition and Refinement
Agile Content Definition and Solution Delivery
Quality and Change Control
Specification and Documentation
LMprime´ seamlessly plugs-in to the Siemens AdvantEdge methodology, enabling the usage of the software vendors best practices collected as part of the AdvantEdge Knowledge System (AKS) in order to enable a faster definition cycle.
Agile methodology
Applying LMprime´ to all phases of your PLM project results in a significant gain in solution throughput and shorter delivery cycles.
LMprime´ approaches all phases of your agile PLM Tranformation from process analysis to delivery and organisational change management using concepts like
Agile assessment
Agile consulting
Agile delivery
Agile organisation
Agile coaching
Agile support
At ist core LMprime´ imposes an agile delivery framework that spans from very early project phases and project assessment all the way down to system maintenance after final project deployment and roll-out including cloud based service desk operations. LMprime´ is well suited to be combined with sprint concepts and their organisational aspects at any project phase.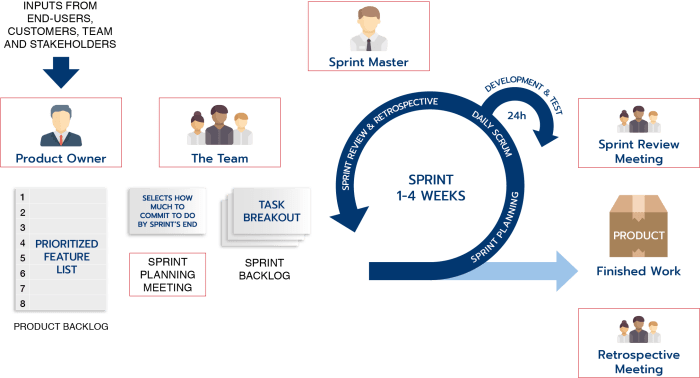 LMprime´ tools
Well proven definition and development concepts require also effective tools for realization. Our tools sets cover functionality for the definition phase of a PLM project but also industry specific solution bundles ready to deploy.
Being system independent by definition, LMprime´ promotes Sparx Systems Enterprise Architect (EA) for process analysis and requirements definition as well as data model description and solution packaging. Additionally, Atlassians JIRA Cloud based software project management application is mostly used for planning, tracking and reporting purposes during the delivery phase of a PLM implementation.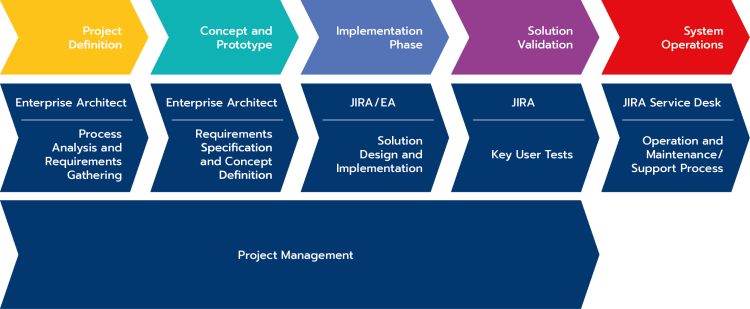 In order to enable a seamless integration of the definition and execution phases, LMprime´ provides a set of integration tools and plug-in solution. These are
Siemens AdvantEdge adapter for Enterprise Architect (EA)
EA Model Driven Generation (MDG) template for Teamcenter
EA to JIRA connector supporting sprint planning and sprint execution
JIRA Service Desk operations for Teamcenter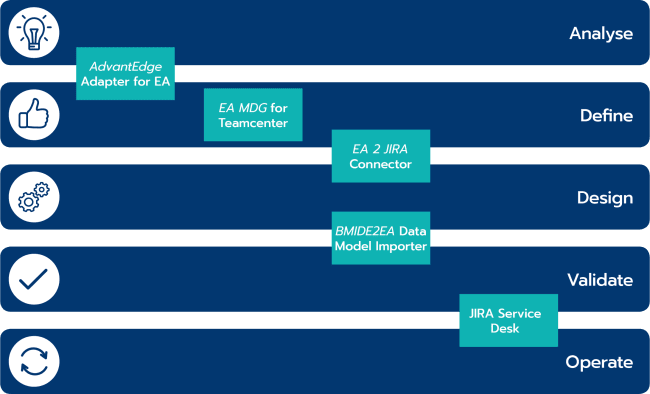 AdvantEdge adapter for Enterprise Architect
The AdvantEdge adapter for EA allows a direct import and setup of AdvantEdge solution templates into EA. With this specific import functionallity AKS solution templates are interpreted and automatically re-built as business use cases and capability objects in Enterprise Archtect. Based on this setup, business analysts and solution architects are immediatly able to start defining system related use cases and requirements and initiate the specification of a detailed solution in a multi-user envronment enabling that enables teamwork throughout specification and implementation.
MDA for Teamcenter
Model-driven architecture is a means of transforming a platform independet model (PIM) into a platform specific model (PSM). Based on OMG's notification standard UML, the LMprime´ MDG for EA contains pre-defined artefacts supporting the specification process through
UML Patterns
UML Profiles
Code generation templates
Code parsing grammars
The latter includes an import tool enabling the re-engineering of a Teamcenter BMIDE template into UML.
Enterprise Architect to JIRA connector
With the EA2JIRA connector, specified solution packages are transferred for sprint planning and execution from the specification phase into the execurtion phase. As a pre-action, solution architects are enables to package solution bundles as JIRA tasks or subtasks and tranfer them directly to the corresponding JIRA cloud project where they are assigned for execution to the respective implementation specialist.
JIRA Service Desk
Our JIRA Service Desk operation provides the capabilities of incident-, change- and problem management for customers and allows him to search for solutions or create incident requests to ask for help. This feature is offered as part of our system maintenance and operations to customers
Contact us and ask for more information about those LMprime' related tools and service options and get more information about our ready-to-use Teamcenter solution templates for
Automotive supplier package
Compliance management
Engineering to order
Global E-BOM M-BOM management
Master data governance
Mechatronic BOM management
New product development initiative